Polari reader Matt Harris writes his coming out story. It's a cautionary tale as well as an encouragement for those who haven't come out to their families.

If you would like to submit to the 'Coming Out Stories' series, click here to write in.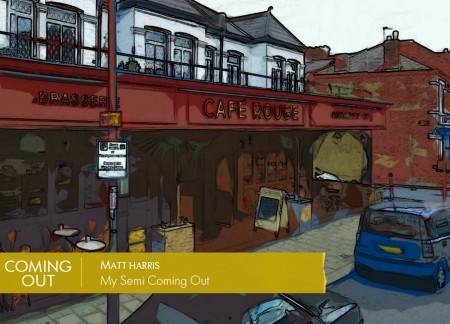 I was such a coward. I'd been to art school, a bastion of liberal freedom, for Christ's sake, yet it took me until I was 30 to declare to my family I was a raving homosexual. I finally decided to come out to my brother and sister in a Café Rouge in Putney in the mid '90s. A croc monsieur still reminds me of that uneventful day.
I had followed my big sister Cath to London a couple of years previously and decided it was getting very boring in the closet. There are a few debits to my character, but to my credit lying never came easily to me and living a lie had become intolerable. I had something to declare.
Roger, my younger brother, had come to stay for the weekend. It was my moment. I could kill two siblings with one stone, as it were. I said I had something important to tell them and arranged the meeting. I suspected they'd  think the question of my sexuality would be under discussion. This, I assumed, would make it easier for me.
We ordered light bites and coffees and with leg tremble under control I told them. There was a pause and my brother, the popular, macho, rugby-playing, policeman, stood up, all six foot two of him, grabbed me by the scruff and bellowed at me. "I thought so. You disgusting queer!" And promptly walked out. My sister rose to her feet too and said, "Now look what you've done, you embarrassing little deviant. Have you got AIDS? Don't you dare tell Mum and Dad." She followed Roger out, dragging the food off our undersized café table with her coat as she went.
Actually that's a big lie – this time. It was though, the reality of my inner dialogue as I was trying to find the right words for I am a homosexual. It was an inner dialogue so loud at that moment, if my brother and sister had actually said and done that, it would have only matched my expectation. I would, at least, not have been caught unawares.
The truth is I don't really remember much at all. There was no scene. No great falling out. Though I do recall that the great reveal brought some disappointment I hadn't won the pools and some relief I wasn't in the midst of another financial meltdown. I do remember Roger making some quick adjustments in his mind and shifting quietly in his seat before reacting. He said that he still loved me and that I was still his big brother, " matter what". I welled up even if neither of us dared believe he was being honest about how he felt yet. Cath, playing with the foam on her cappuccino, concurred and joined me with a restrained tear of relieved emotion. She said something along the lines that she'd suspected all along and hugged me.
I should have anticipated it being this predictable but rather than relief, I immediately felt disappointed that I should have said something years earlier.
I don't really know what the emotional fall-out was for Cath & Rob but on the surface they continued to say and do the right things, which is a practical demonstration of love I'll always be thankful for. Recalling that day here has also made me realise how easy they made it for me.
My parents had a farm in West Wales. I went back home soon after. I still wasn't sure if I was ready culture shock my Dad, so I approached my mother first. I sat her down on the sofa and fixed my stare on the view of the beautiful, boring countryside over her shoulder and began pussyfooting around the subject. I eventually blurted out my good friend Scott from London, who she knew, was probably not going to get married because he was gay. "Oh, I thought so!" Now this was gossip…
I quickly proceeded with a, "So am I." And there was silence. Then an "Oh."
I honestly didn't know how sympathetic she'd be, so I continued, fixing my eyes on a scraggy sheep caught in some brambles just outside the garden as I spoke. I impressed on her that I was now "happy" before I segued into my childhood experiences, determined to paint a picture of my less-than-satisfactory formative years: the guerrilla warfare of gay childhood survival; the stress of low-level psychological bullying by classmates, because for me that's what I feared the most – by girls and boys; being harried and chased by various packs of kids on the way home from school; being spat at; having to cross the road to avoid abusive confrontations etc etc.
I wanted to be heard. After a litany of woe she wouldn't dare, surely, to be anything but sympathetic?
I finished and she asked if Scott and I were boyfriends. I said I wasn't sure. (We weren't as it turned out. He was an arse) She looked at me and said, "That's nice, dear. How does this affect me?" Then she shed a crocodile tear because she understood the moment should look like a significant one for at least one of us. It was the best response I could have hoped for.  "Cup of  tea?" Her indifference was a typical kind of Welsh reaction, or so I thought. I have since come to understand my mother's indifference to other peoples' needs is just her way.
That's as far as I got. I didn't tell my father because… Well, because I have to admit I still hadn't entirely dealt with being gay. Outright rejection by him would have been something to work with, but the idea that he would have felt ashamed or embarrassed by me still seemed to weigh much more heavily. There were still remnants of those emotions in my heart and my mother's lack of empathy meant I didn't have much of a potential ally if things went downhill. So I agreed to leave it for a while. In other words we were both being cowardly. Which was ridiculous to me now because he was the most intelligent, rational member of my family.
I did find out afterwards that my Dad and my sister had had a conversation about me during a long country walk. He'd intimated it not being such a big thing  – of course. He died just a few years later without me ever having had "the chat", which I regret because it had prevented both of us developing together. He loved his farm, his family, he loved his big-band jazz, and I eventually understood, he loved me.
A short while ago too, my beautiful little brother, and incidentally the only person who'd actually stuck up for me as a kid, died from a brain tumour, and then his wife had breast cancer and then his best friend killed himself for fuck knows what reasons. I feel like my guts have been hollowed out… What I'm trying to say is – to closeted people, younger ones especially – coming out probably won't be the hardest thing you'll ever have to deal with.
And whether or not my coming out was a relatively mundane experience because of all those brave activists of yesteryear, or whether it was because I was lucky enough to be brought up in the right family, I don't really know.
Hopefully, if you haven't done it yet, it just may be the forgettable experience mine was.
This work, unless otherwise expressly stated, is licensed under a Creative Commons Attribution-NonCommercial-NoDerivs 3.0 Unported License.