Black Tears   ★★★★★
Marcus Reeves
3.56 min • Independent • November 5, 2012
………………………………………………………………………………………….
'Black Tears' is the first single from Marcus Reeves' debut album Quicksilver – The Masquerade Macabre and, unsurprisingly, for a homegrown talent that has been busting the cabaret boards for the last ten years, the track opens with a single piano that underpins a distinctly torch song intro. Marc Almond's affair with master of the theatrical chanson, Jaques Brel, is immediately called to mind. Reeves' opening phrase, delivered on a lilting baritone, drips with Almond's signature drawl, and is laced with a hint of Scott Walker too … What does surprise is the pop-hook of the chorus, which quickly swallows up the torch song intro, giving 'Black Tears' a prologue that is so catchy you itch to hear its reprise almost instantly. The rising organ underneath this pre-chorus signals that something potentially exciting is coming, and I'm not disappointed.
With the prologue over, a pop song rears up, taking the lead and we're already many leagues from the music hall origins of the opening bars. The song has taken on a delightful new direction bouncing over a pop beat with staccato strings. We're in Annie Lennox territory now as Reeves croons,
"Give me your hand," you said as you lead me into the blue,
I softly bowed my head and said, "My lord I'll follow you",
Through fields and make-believes, I walk three steps behind,
As you sped, on ahead, I try to read your mind -
I have to admit, I'm impressed. The lyrics, with their own inherent rhythm, fall and rise in waves over some pretty clever production, which is full and rich with instrumentation, and keeps unfolding, revealing new moments on repeat listens.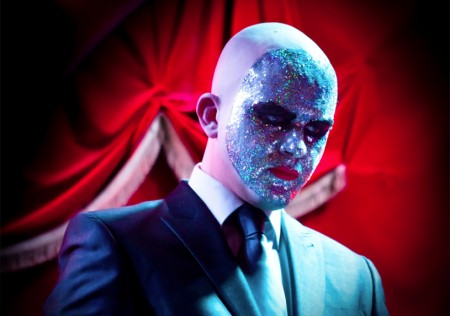 From its metamorphosis from music hall to pop, with a chorus that presages its own reprise and a crescendo that snaps the song in twain three quarters of the way through in a moment that feels like a sort of desperate mania (though I would have loved the chorus to have kicked back in with a more bitter bite) it's a song of many surprises. I believe all albums at their heart should be conceptual, and so I take particular delight in the full package of Reeves' work which, amongst others, invokes Bowie's Ziggy as muse. 'Black Tears' is the first outing of Quicksilver, the character through which the album The Masquerade Macabre will be played out, and if the melancholic melodrama of 'Black tears' is anything to go by I am ready to follow him further into the abyss of his own making…
This work, unless otherwise expressly stated, is licensed under a Creative Commons Attribution-NonCommercial-NoDerivs 3.0 Unported License.