Secret Symphony ★★★★★
Katie Melua
37:32 min • Dramatico • March 5, 2012
………………………………………………………………………………………….
Diverting from the edgy and grossly underrated The House, Katie Melua has embarked on a seemingly simplistic album that lays bare her distinctive, sensual voice with some wonderful orchestral manoeuvres. Recorded at Air Studios in London, Secret Symphony has Melua returning to her roots and leaving behind the electronica and wizardry of William Orbit by re-enlisting Mike Batt as producer of what is truly her "singer's album".
Although Melua had originally intended to lend her voice as a muse for other scribes, she penned the autobiographical 'Forgetting All Your Troubles' and with Batt co-wrote 'The Cry of the Lone Wolf' as well as 'Heartstrings'. Batt contributed four additional tracks. What materialises is a wonderful marriage of Melua's distinctive voice with sumptuous orchestral arrangements and the trademark uplifting Batt melodies.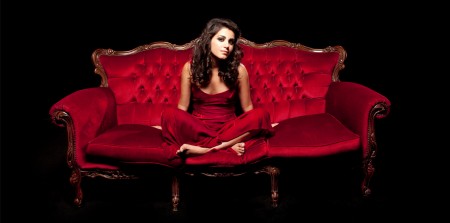 The opening track 'Gold In Them Hills' is a stripped down, symphonic reinterpretation of the original Ron Sexsmith and Chris Martin track. The stunning strings evoke the subtle beauty conjured up by the late Georges Delerue on the Steel Magnolias soundtrack and Melua's voice appears matured and rich, highlighting her wonderfully controlled range with ease.
If we'd only open our eyes and see the blessings in disguise
that all the rainclouds are fountains,
though our troubles seem like mountains…
The slow-burning balladry in the album's lead single 'Better Than A Dream' is immediately rebuffed by the edgier number 'The Bit That I Don't Get' with some dramatic, dark key-changes bemoaning the reality and pain of a love wrenched away suddenly.
People break up every day
but I never thought I would wake up to hear you say
Forever, now means never…
Although the blueprint of letting loose Melua's opulent vocal with an orchestra remains largely the same throughout the album, the diverse musical styles are the key to keeping the listener's interest. There are the staple Melua blues and jazzy components on the Fran Healy penned 'Moonshine', some superbly executed elements of rockabilly in 'Heartstrings' and country guitar twangs in 'The Bit That I don't Get'. There is also a wonderfully smoky re-imagination of Francoise Hardy's 'All Over The World'.
One of the album's highlights is the formidable, big brass band version of Jimmie Cox's 'Nobody Knows You When You're Down And Out', where Melua gets truly down on the bayou and even suggests the expert bluesy delivery of Sophie B. Hawkins in parts. This weaves seamlessly into the wonderfully guitar-driven folksong 'The Cry Of The Lone Wolf' by reprising the chorus in an acoustic guitar riff at the beginning of this gorgeous, aching ode.
The album's stand-out track is the self-penned 'Forgetting All My Troubles' which underlines a new lyrical maturity and incorporates beautiful woodwind and string arrangements, enabling Melua to channel herself at her 'Closest Thing To Crazy' haunting best.
Proceedings close aptly with the superb title track. 'Secret Symphony' is an epic gem of a ballad and has all the heart-breaking elements of Melua's own 'Red Balloons', an aching vocal against a backdrop of an exquisite orchestral arrangement incorporating subtle woodwind and lush strings.
Not as much a sonic departure as was the case with The House, this flawless and mature collection of songs is more of a stellar return to form for this talented artist. Secret Symphony will keep Melua's fan base more than content and is as original and as brilliant as Tori Amos' last endeavour Night Of Hunters and charmingly blurs the lines between pop and orchestral music.
This work, unless otherwise expressly stated, is licensed under a Creative Commons Attribution-NonCommercial-NoDerivs 3.0 Unported License.