The Spirit Indestructible   ★★★★★
Nelly Furtado
49.44 min • Mosley / Interscope • September 14, 2012
………………………………………………………………………………………….
For the over ten years, Nelly Furtado has been at the forefront of "intelligent" pop music. From her trip-hop inspired debut Whoa, Nelly, to her genre crossing sophomore album Folklore, no one could touch Nelly for her originality and strong alternative pop style. Then, for reasons that were never fully explained (although many people had put it down to poor album sales of Folklore) Nelly worked with Timbaland, and became a sexy R'n'B siren. 'Maneater', her first single from 3rd album Loose, and also the first track she wrote with producer Timbaland, was her biggest success to date, and whilst the public seemed to like her urban chic makeover, the fans that had bought her first two albums were rightly unmoved by the material on Loose. Myself, I liked a lot of Loose, but like many others I felt that Nelly had sold out, and lost much of her originality. So it's with caution that I approached The Spirit Indestructible, her new album, mostly produced by current R'n'B legend Rodney Jerkins, known for his work with Brandy, the Spice Girls and, more recently, Janet Jackson's beautifully twisted pop album Discipline.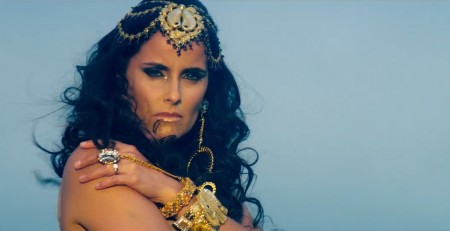 Opener and title track 'Spirit Indestructible' is the most classically Furtado thing on here.
I am the spirit indestructible!
Nelly's ever distinctive voice sings above an over-complicated organ before hitting us with a drum that shakes you right down to your core! It's the perfect blend of their talents, and doesn't feel forced, allowing us to still hear her songwriting through the massive urban production it sprawls into.
First single, 'Big Hoops', is a hip hop stomping like no other. This time we're into classic Rodney Jerkins territory, essentially learning about Nelly strutting around in a pair of massive hoop earrings (subtitled "the bigger the better"). Its stuttering military hip hop beats and electro bass transforms her into a cool urban diva that the likes of Beyonce could only aspire to! Just as we think the songs over -
No, it ain't over yet,
- we're thrown into a drum'n'bass finale, making it the most interesting pop single of the year so far. The second most interesting pop single of the year, ironically being on the same album! And this is where I hit my first problem. New single 'Parking Lot', a banging, MIA homage (the line between homage and rip off is very thin) is addictive, quirky, fun and like the pop song equivalent of Crystal Meth, it's had me dancing down Brixton Hill on many an occasion (and even on the tube this morning, to the discomfort of the other passengers). The main problem is I have a larger urge to put it on repeat than I have to listen to the rest of the album as a whole. When I do manage to get past 'Parking Lot', the Nas collaboration 'Something' hits, and whilst paling in comparison to everything so far, it's an adequate hip pop song, and moves along nicely. The gorgeous 'Bucket List' is also becoming a favourite,
I took a long look at my bucket list,
And I saw that at the bottom it said "our first kiss",
And Woah I'm running out of time -
I mean, a mid tempo r'n'b pop song about your bucket list (a list of things to do before you die) could only have come from Nelly, and it is touches like this that keep this album from exploding into fluff and feathers. The album is also punctuated with interludes, some that take us inside the recording studio, and others that give us a musical segue from song to song or tell us a story. My favourite the aptly titled 'The Most Beautiful Thing' (which is, incidentally, quite beautiful) an excerpt from a random English teenage girl's holiday diary. This obviously appeals to my inner 15 year old girl, and the tale of her hoping to see the boy she likes at the final party before she goes home,
I've gotten a new dress for it and everything -
adds a different dimension to 'Waiting For The Night', the closest thing we get here to a dance song. Despite reminding me heavily of 'Waiting For Tonight' by J-Lo (it's more the title than anything, but there's definitely a vibe!) there's also a resemblance to Nelly's guest vocal from Tiesto on the monster (and criminally underrated) dance track 'Who Wants To Be Alone', and it's also another song that has had repeated listening. Other highlights include the brilliantly captivating 'Circles', the downbeat 'Miracles' and the stunningly upbeat and epic closer 'Believers', produced by Rick Nowles.
I'm still not 100% sure what I think of Nelly's latest offering. It's much more in keeping with her first two albums than the chart fodder of Loose, but there is still enough to keep the mainstream happy, but I can't help thinking that she's not comfortably back in her own musical skin just yet. Working with Rodney Jerkins was a smart move, as he's allowed her songs to flourish without being drowned in style. He's also musically innovative enough to cope with Nelly's quirky and alternative writing style, and this is very much prominent in this collection. However, I still yearn for the old Nelly back – even if she does seem to be heading in the right direction. Let's see what the future holds.
This work, unless otherwise expressly stated, is licensed under a Creative Commons Attribution-NonCommercial-NoDerivs 3.0 Unported License.