The Truth About Love   ★★★★★
Pink
51.01 min • RCA • September 14, 2012
………………………………………………………………………………………….
Pink hasn't really rocked out for a while, and I've missed it. With her ever changing musical style, from her r'n'b beginnings to her electro and punk pop of Try This, to her last two slightly MOR offerings, she's done a bit of everything, so to be honest by the time news of new album The Truth About Love surfaced, with its bland pop single 'Blow Me (One Last Kiss)' – the best part of this being the title - I'd more or less given up. So imagine my surprise when I pressed play on iTunes and heard brilliant pop rock opener 'Are We All We Are', a thumping sing-a-long rock song that sets the bar higher than I expected. Too bad it's followed by 'Blow Me' which, although better in the context of the album, still sounds a little like Katy Perry bashing Kelly Clarkson over the head with an inflatable mallet! The fact that the song is raised by a small amount of light profanity in the chorus tells you a lot, but I do prefer its blandness in the context of the album than on my radio.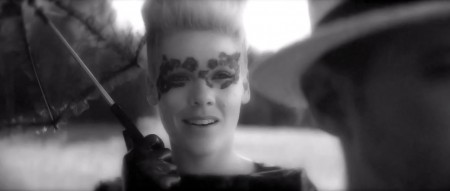 Second single 'Try' is beautiful, if MOR, but sees us on familiar ground with Pink. The chorus is as lyrically brilliant as it is straight forward
Where there is desire there is gonna be a flame,
Where there is a flame someone's bound to get burned,
But just because it burns doesn't mean you're gonna die,
You've gotta get up and try -
but musically, it's nothing we havent heard before. Pink's raw vocal explodes over the pop production, but there's something a bit Kelly Clarkson about the whole affair (both artists are produced by Greg Kurstin, which could explain why it all feels a little bit like I've heard it before). And this is where the album starts to confuse me. There are collaborations – with other singers, writers and producers – but instead of stamping herself on these tracks, Pink seems to get a little bit lost in other people's sounds. There's promise in 'Just Give Me A Reason', the second ballad of the album, a duet with fun. lead singer Nate Ruess (funny how people are only just discovering fun.), and while it's stunning and quite minimal in production, it sounds almost like her guesting on a fun. song being produced by the brilliant Jeff Bhasker (who produced fun.'s album). The same can be said for her duet with Lily Allen on 'True Love', produced with Allen's producer and co-writer Kurstin, which wouldn't have surprised me if it had been a song by Allen herself. Who knows, maybe Pink's passion for other artists extends to her striving for their sound and, like Madonna before her, would rather go to the source than imitate. The problem for me on these songs is I can't shake the feeling that I'm not hearing Pink, merely a Lily Allen song Pink happens to be singing on. The last collaboration comes towards the end of the album, with Eminem and his producer DJ Khalil. A Pink and Eminem duet can never be a bad thing, but this isn't their best work.
I perked up a little with 'How Come You're Not Here', almost the counterpart to 'Leave Me Alone' from her I'm Not Dead album. Rather than wanting space, this time Pink wants you to,
Come back or I might just die -
but for someone with such brilliant lyric writing talents (even her most boring moments normally have well-written lyrics) the chorus of,
Are you hiding in the closet,
Are you underneath the bed,
Did you take a long walk off a short pier?
doesn't really hit the spot for me. Pink's lyrics can, at times, seem quite immature, and this is one of those occasions. It's got a good groove to it though, and did cause me to dance more than the beginning of the album, so things are looking up.
I'm not a slut – I just love "love"
Now this is more like it. 'Slut Like You', produced by Max Martin, is Pink as I've come to expect her – sharp lyrics, sing-a-long punk chorus, bordering on offensive subject matter (picking up a guy in a bar by behaving like a man and being a slut). It's basically what Katy Perry has been trying to do for years, only better. Things are looking up.
Rock'n'Roll song and title track 'The Truth About Love' is great too – probably the highlight of the album, to be honest – and is the epitome of pop cool. With a strong 1960′s feel, giving us the bad and the good about Love, its hand claps and simple guitar riff come on us like the B52s being fronted by Patti Smith, and its genuinely interesting. A little overproduced perhaps, but interesting.
Ballad 'Beam Me Up' is stunning. A break from the faux rock of the last few tracks, this is a very tender and raw moment with beautiful strings, and honest lyrics.
Give me a minute, I don't know what I'd say in it,
Probably just stare, happy just to be there, holding your face.
Beam me up.
It wins ballad of the album, and is followed by the enormously fun 'Walk Of Shame'.
Now, I don't know about you, but I've done the walk of shame a lot (and ex of mine worked in a pub, so doing the walk of shame through a South London Weatherspoons at 9am wasn't fun) and there aren't too many songs about it. Pink manages to capture my feelings about it completely, coming across like a slightly soiled Katy Perry, still smelling of JD and cigarette smoke, and I'm more than happy with that.
The aforementioned Eminem collaboration is ok – it rocks along like a good little pop song, but I can't help feeling that these two incredibly talented people could have done something much better …
'Closer The Great Escape' is, again, a beautiful ballad – written from the heart, and with a stunning string section. It doesn't stick in your head as much as 'Beam Me Up', and as an album closer it's a bit … flat. Maybe, like the Funhouse closer 'Glitter In The Air', it's a grower, but the seed definitely hasn't taken root with me yet.
Pink still has one of the best voices in the music industry, but the truth about The Truth About Love? at best, it's ok, at worst unremarkable. It has more immediately likable moments than her last album Funhouse, but nothing remarkable (I'm still bemused as to why she gave her best song in many years 'What D'ya Want From Me' to Adam Lambert, when this album really needs something of that calibre). On her first 4 albums, Pink redefined a lot of preconceptions about pop, and mixed genre's from r'n'b to punk to electro, always working with the best people in each genre. These days, there's a distinct feeling of her settling into a style, one that was established on the brilliant I'm Not Dead, but that has turned into something quite bland and doesn't quite match her personality as much as her earlier work. There's signs of it being less present on this album, but not enough for me to hope for a "return to form" any time soon. I'll still continue to listen, and parts of this album will have (and already have had) repeated listens – but I'll still hope for something more interesting next time. I just won't hold out too many hopes of getting it.
This work, unless otherwise expressly stated, is licensed under a Creative Commons Attribution-NonCommercial-NoDerivs 3.0 Unported License.